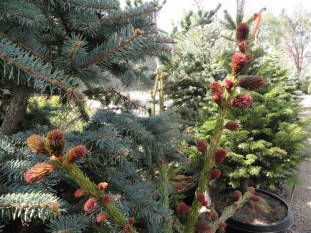 Serving the San Jacinto Mountain communities since 1971, the High Country Nursery is a year-round retail nursery located in Anza, California in southern Riverside Country. Nestled in a valley, at an elevation of 4030 feet, we are able to grow plants that are adaptable to climate and altitude, for both lower elevations and all of the southern inland mountain communities.
Our Variety
We have a large variety of plants in stock including drought resistant California natives, rare and unusual conifers, cold hardy cacti, shrubs and a colorful perennial selection.
Our Climate Zones
There are different types of zones used to determine a plant's ability to withstand extremes in climate:
| | | |
| --- | --- | --- |
| Sunset zones determine cold hardiness, heat tolerance, and other factors such as wind and length of growing season. Currently Anza is a Sunset zone 7, along with Julian, Warner Springs, Mountain Center, Pinyon Pines and Idyllwild. Pine Cove is Sunset zone 2b. | | USDA zones determine cold hardiness, and are determined by the lowest winter temperature in your location. Anza is a USDA zone 8 with minimum temperatures between 10-20 °F. If your winter minimums are 0-10 °F, you are a USDA zone 7! |
If you have any questions about cold-weather or high desert landscaping, don't hesitate to ask! Plants from High Country Nursery are among the most hardy plants found anywhere, able to tolerate climate extremes including frost and drought.
---
Our Location
38460 Bailiff Road
Anza, CA 92539
Tel: (951) 837-1905
Email: sales@highcountrynursery.com
Hours of Operation
We are open, 5 Days a week
9 AM - 5 PM
Tuesday thru Saturday
Closed Sunday and Mondays
(call us anytime!). We have new outdoor lights at the nursery to accommodate evening appointments.
Directions
Take Highway 371 to Anza. From the Sinclair Gas Station, head North on Bailiff Road (across the street). Go to the end of Bailiff Road, turn right, go about 30 feet and turn into the gate on your left. Follow the driveway 500 feet, and you will see the nursery on your right.
* Internet mapping and GPS usually fail to locate the nursery accurately, so please type or paste in the following coordinates to direct you to the correct location:
33.564007 -116.679418
---
Our Plants
The selection at High Country Nursery couldn't be better! We carry cold hardy succulents, cacti, perennials, California natives, fruit trees, berries, vines, roses, ornamental shrubs, cold hardy palms, bamboo, deciduous and evergreen trees and a huge selection of conifers. We stock a wide range of sizes from 4" up to 36" boxes. Our plants are zoned to take temperatures of 10 degrees F to as low as -30 degrees F. We carry around 100 different perennials, 250 types of shrubs, 250 varieties of trees and around 20 kinds of vines. The in-stock selection is amazing, and if we don't have it, we would love to find it for you. The following lists will give you an idea of some of the plants we have at the nursery.
Conifers
The Firs: 18 species of fir, with a total of 34 varieties.
The Cedars: 3 species of cedar, with a total of 19 varieties.
Chamaecyparis: 5 species, with a total of 11 varieties.
The Cypress: Leyland, Italian and Arizona Cypress
The Junipers: 6 species, with a total of 20 varieties.
Spruce: 9 species, with a total of 42 varieties.
The Pines: 25 species, with a total of 52 varieties.
Douglas Fir: 4 varieties
Giant Sequoia: 3 varieties
Dawn Redwood, Incense Cedar, Cryptomeria, Larch, Microbiota and Hemlock
Natives
California natives: 76 varieties
Southwestern natives: 27 varieties
Northwestern and Rocky Mountain natives: 36 varieties + 18 varieties of Colorado Spruce
Fruit Trees & Berries
(selected for high chilling hours)
Apples: 7 varieties
Apricots: 6 varieties
Cherries: 7 varieties
Nectarines: 2 varieties
Peaches: 8 varieties
Pears: 2 varieties
Plums: 4 varieties
Grapes: 5 varieties
Berries: Blackberries, Raspberries & Boysenberries
Cold Hardy Cacti & Succulents
Sedum: 13 varieties
Agave: 5 varieties
Yucca: 4 varieties
Opuntia: 3 varieties
---
Community is important!
The High Country Nursery is a member of the
Anza Valley Chamber of Commerce
, the
Idyllwild Chamber of Commerce
, the
California Native Plant Society
and the
Conifer Society
. Please take a moment to visit our
local on-line community directory
.